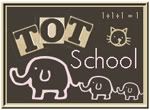 Jackson is 13 months old today! He weighs 24 lbs & is approximately 2 ft 5 inches tall. He now has 6 teeth and his new thing he's learned to do is to pat his head.
We were busy bees this week! Monday we went to see folk singer
Kate Carpenter
and it was a lot of fun! She had tons of different puppets, fun songs, and used different voices and instruments. Tuesday we had a play date and Thursday we went to story time at the library. Friday we were supposed to go to a pool party, but it got rained out!
Jackson loves to be read to. His favorite book is
Toes, Ears &
Nose
. I swear it is his favorite toy. Even if it is at the bottom of his toy bin, he will find it before playing with the other toys. The only problem is that he keeps tearing the flaps out, (every flap has been taped back in at least 4 or 5 times) so we will definitely need to buy a new copy soon. Another book that he really loves is
I Love You, Every Little Bit
. I have to work really hard at not letting him tear the pop-up parts though!
He got a shape sorter for his birthday. As you can see, he doesn't really sort the shapes yet. But he plays with it a good bit, so I just sit with him and constantly repeat the shape and color of whichever block he picks up. I've also been using it to work on the concept of "in" and "out." I know he doesn't really get it yet but he likes playing with them.
I also bought him a farm animal puzzle. He doesn't really understand this yet either, but I show him a few times and then I just tell him the name of the animal he picks up and the sound it makes.
I ordered these farm animal puppets from
Discount School Supply
. I just love these! I've been singing him Old MacDonald pretty much since he was born, and I love having these puppets as visuals for it now.
Our new favorite song is one I got from the book
Toddler Play by Gymboree
(it is full of great ideas!). You sing it to the tune of "Wheels on the Bus" and it goes like this...
Take your little hands and clap, clap, clap
Clap, Clap, Clap
Clap, Clap, Clap
Take your little hands and clap, clap, clap
(Then follow the same pattern for the next verses)
Take your little feet and tap, tap, tap
Take your little arms and hug, hug, hug
(last line:
hug your mom & dad
)
Take your little mouth and kiss, kiss, kiss
(last line:
hug your mom & dad
)
Take your little hands and wave good bye, wave good bye, wave good bye
Jackson LOVES the hug & kiss parts. And since he has started patting his head, I added a "
Take your little hand and pat your head
" part for him.